Every supplement makes flashy claims, but the ones made by AlgaeCal, that it is "the only calcium supplement that increases bone density" is particularly bold. You see, while every other calcium supplement currently on the market can, at best, decrease the rate of loss of bone density, AlgaeCal claims to be able to fully tip the scales in the other direction and make your bones denser with time. So, are the makers of AlgaeCal lying, or is it truly a miracle marine mineral? Does it represent a breakthrough in the way that we treat osteoporosis? Let's look at the science.
Why do I care how dense my bones are?
Put simply, because bones that are less dense break more easily, and no one likes broken bones.
As we live our day-to-day lives our bones receive micro-damage. To combat this, our bones are in a constant state of remodelling. So constant in fact that up to 10% of our bones may be in the remodelling process at any one time. This remodelling has two main parts: bone resorption, and bone formation. Most of the time these two processes exist in equilibrium, but as we age this equilibrium can shift (for a wide variety of very complicated reasons). The result is osteoporosis. It affects roughly 10% of Canadians aged 40 or older and is characterized by weak and brittle bones that break in situations healthy bones would not, like when bending over to pick something up.
We can put a number on this loss of bone strength by looking at bone mineral (a calcium-containing compound that makes up 70% of the mass of a human bone called carbonated hydroxyapatite) since it is responsible for most of a bone's strength. The bone mineral density (BMD) is a good predictor of fracture risks and can be easily and painlessly measured using a DEXA test.
As aside: What is a DEXA test?
DEXA stands for dual-energy X-ray absorptiometry, a non-invasive procedure that involves lying on a table for several minutes while two X-ray beams are aimed at your hip, spine, wrist or other bone. As for how this allows doctors to measure your BMD, I'll let Osteoporosis Canada explain: "Think of the light shining through the curtains of your home on a sunny day. The amount of light that reaches your eye depends on the thickness of the curtains. If your curtains are very thick, very little sunlight passes through them. If, however, you replace them with a thinner fabric, the light coming through to you will increase substantially. Similarly, a bone densitometer uses a detector to measure the transmission of small amounts of X-rays (light) through your bones. The amount of light that passes through the bone is measured, thus providing a radiologist with a picture that indicates how dense (thick or thin) your bones are."
How well do the existing calcium supplements work?
AlgaeCal costs more than 100 times as much as normal calcium supplements, so it must work much, much better right? Well, to answer that we first have to look at how well traditional calcium supplements work.
A 2007 meta-analysis published in The Lancet found, looked at both studies using fractures or BMD as their endpoint, and found that calcium supplementation was associated with a 12% risk reduction in all fracture types, and a 0.54% reduction in the rate of BMD loss in the hip and a 1.19% in the spine.
Basically, calcium supplements can help mitigate the decrease in BMD and increase in fracture risk that come with osteoporosis.
An aside: Why do we sometimes use fractures and sometimes use bone mineral density as our outcome?
The main negative outcome of osteoporosis is bone fractures. So, when we're testing treatments for osteoporosis, we would ideally use fractures as our endpoint. Basically, that means that we would test if patients receiving a particular treatment suffer fewer fractures to see if that treatment works. This, however, can be difficult to do. If researchers run studies on osteoporosis treatments only lasting a few years, they may get artificially skewed numbers, as patients could experience no fractures during the study, but suffer one days after it ends, or they could experience two fractures during the study period but never another. Hypothetically, researchers could monitor osteoporotic patients from the time they're diagnosed with osteoporosis to the time of their death, but the logistics of funding and operating an over-30-year-long study would be monumental. So, our options are to either run studies over only a few years using fractures as an endpoint but with a large number of participants to help account for the inconsistencies or to use bone mineral density as a surrogate clinical endpoint.
While some studies have found that calcium supplementation is not effective unless given with vitamin D, the Lancet meta-analysis found no statistical difference between the risk reductions offered by calcium alone versus calcium + vitamin D. Vitamin D only affected the fracture risk if the patient was deficient in it, and a similar effect was seen with calcium. Essentially, if you're vitamin D or calcium deficient, it could be affecting your body's ability to create new bones, but if you're not, taking a vitamin D supplement likely won't help you avoid broken bones, and taking calcium supplements will only help a bit.
How is AlgaeCal different from traditional calcium supplements?
What is it about AlgaeCal that allows it to do what other calcium supplements cannot? Well, what is AlgaeCal?
As you may have gathered from the name, AlgaeCal is made from algae. Specifically, a red algae found in the waters near Brazil, South Africa and New South Wales in Australia. The AlgaeCal website explains that the balls of algae are harvested by hand, sun-dried and then milled into a powder. It states that it is "pure whole food," even though it is very literally not whole but ground up and that AlgaeCal contains "Nutrients. Not Chemicals." I hate to be the one to tell them, but calcium, the selling point of their supplement, is so much of a chemical that it's even on the periodic table of the elements!
The website states that AlgaeCal Plus naturally contains "all 13 essential bone supporting minerals: calcium, magnesium, boron, copper, manganese, silicon, nickel, selenium, strontium, phosphorus, potassium, vanadium, and zinc", as well as vitamins D3 and K2. Unfortunately, they only provide values for six of these minerals, making it impossible to know if the others are present in useful amounts.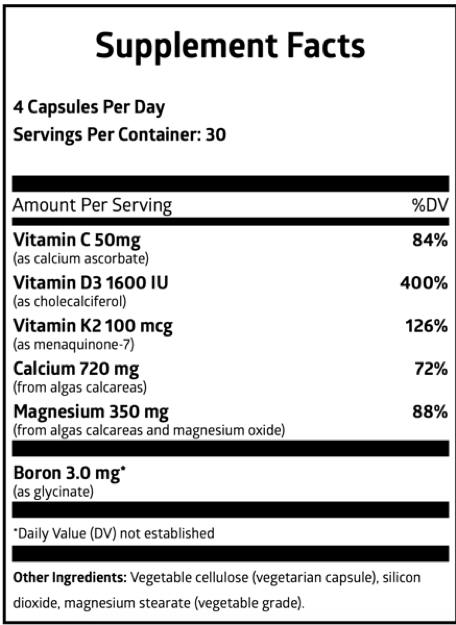 Even for the minerals we know the amounts of, the research supporting their effects on BMD is a bit weak. This 2008 study found no relation between boron intake and BMD in the femur or lower spine, and this 2000 studyfound that low vitamin K2 intake was not associated with low BMD.
So, if these minerals don't matter, is the calcium in AlgaeCal somehow different than traditional calcium supplements?
Well, it claims to contain "pre-digested" or "plant-digested" calcium. Unsure what this meant, even having studied science for many years, I reached out to the company and asked. Unfortunately, their answer didn't really explain much: "In regards to pre-digested, the algae itself absorbs all 13 bone-building minerals and pre-digests them for you." I guess what they mean by pre-digested is just one of the great mysteries of the universe, like dark matter and why it's impossible to eat only one potato chip.
Anyways, whatever pre-digested means, all that really matters is the bioavailability of the calcium or the amount that is absorbed through your digestive tract and into your bloodstream.
Calcium in conventional calcium supplements (or "rock-based" calcium, as AlgaeCal calls it) can be in a variety of salts, which, according to a 2000 review have bioavailabilities ranging from 23-37%. So, this is the number to beat for AlgaeCal.
Too bad we have no idea what the bioavailability of AlgaeCal actually is! While a clinical trial to answer that question was started in 2009 and finished in 2010, no data from it was ever published. Perhaps because it didn't show the results that AlgaeCal wanted it to.
Nonetheless, the AlgaeCal website claims that there are 4 studies that support their product's effectiveness. So, let's take a look at those.
The studies of AlgaeCal
The first one published looked at AlgaeCal's effects on human bone cells. The researchers treated human osteoblast cells with either AlgaeCal, calcium carbonate or calcium citrate, and found that AlgaeCal-treated cells showed statistically better function than the cells treated with the other calcium compounds. But there are two problems with this study. First, results in Petri dishes rarely translate directly to humans. Second, this study was funded, at least in part, by AlgaeCal. A conflict of interest that throws all of these results into question.
The next two studies (1, 2), both done in 2011, were thankfully done in humans. They compared several "bone-health plans" (see image below) implemented in 176 participants and found that any of the plans were associated with increases in BMD. Not just that they slowed losses but that they increased bone mineral density!
Unfortunately, a few aspects of the designs of these studies prevent us from trusting their results. They weren't blinded in any fashion, which means the results could be extremely biased, and they were not placebo-controlled. Oh, and also the lead scientist, Dr. Gilbert Kaats, is the CEO of Integrative Health Technologies inc., a company that has invested in AlgaeCal, and funded one of the studies! That's a conflict of interest if I've ever seen one.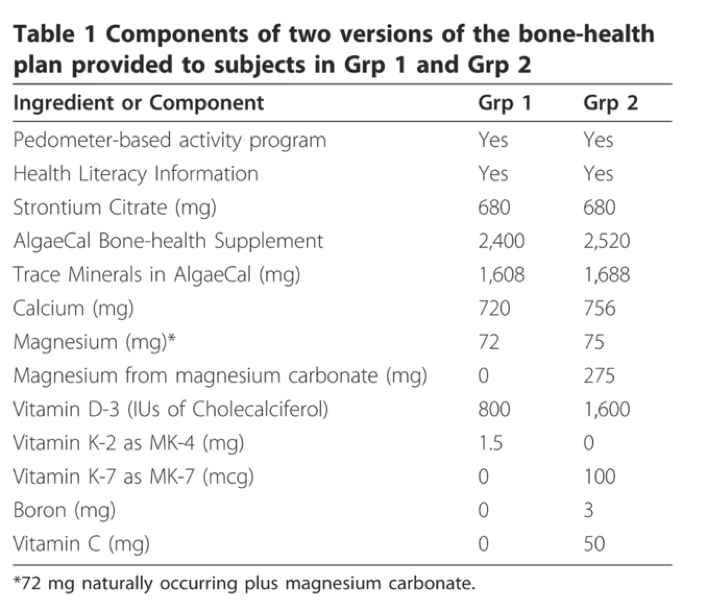 The last study on their site, from 2016, is also headed by Dr. Kaats, and funded via a grant provided by AlgaeCal themselves. Like the others, it wasn't placebo-controlled or blinded in any fashion and, like the others, it showed increases of BMD over a 7-year period.
If we could trust these results, that is to say, if these results were replicated in a double-blind, placebo-controlled study that wasn't funded by AlgaeCal or led by someone with a conflict of interest, it would be incredible. If we truly could increase the BMD of those with osteoporosis, not just slow their losses, it would literally revolutionize how doctors treat these patients. But when something seems too good to be true, it usually is.
It's certainly true that new drugs or treatments are sometimes discovered that revolutionize medicine. A quick look at ganciclovir or penicillin proves that. But it doesn't happen often, and before we start considering AlgaeCal revolutionary, we need an independently performed study.
So, while we don't know if AlgaeCal is a pseudoscientific product, it sure does market itself like one. Ever since I first googled this product, I have been inundated with ads for AlgaeCal on every platform from Twitter to Buzzfeed. Now, aggressive marketing doesn't necessarily mean a product isn't evidence-based. However, when I've previously looked into the science behind products that forcefully target me with ads (like BioSil, Allerpet or Skinny Magic) the evidence has not been in their favour.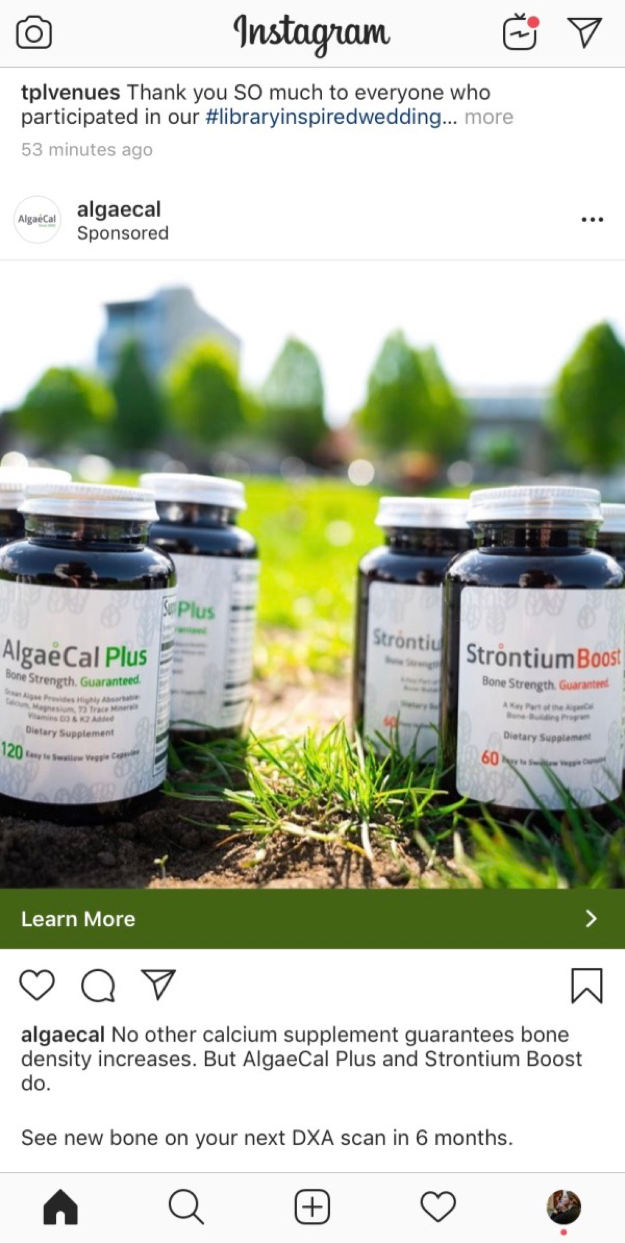 As of right now, it's hard to say whether AlgaeCal works or not. All we can really say is that there's no good evidence that it does. Also, it's expensive. At $2.17 CAD per day, you would save quite a bit of money by instead buying a traditional calcium supplement and throw in a vitamin D supplement too, for $0.14 per day.